The concept of Process is broad - the design solutions span over a wide number of useful applications.
For example, vacuum assisted systems can be used for extracting air from an object followed by filling it with a suitable gas, other examples are heat annealing and metal sputtering chambers.
These kinds of systems can of course be supplemented with leak tests, tracer gas recovery, etc, depending on the defined process.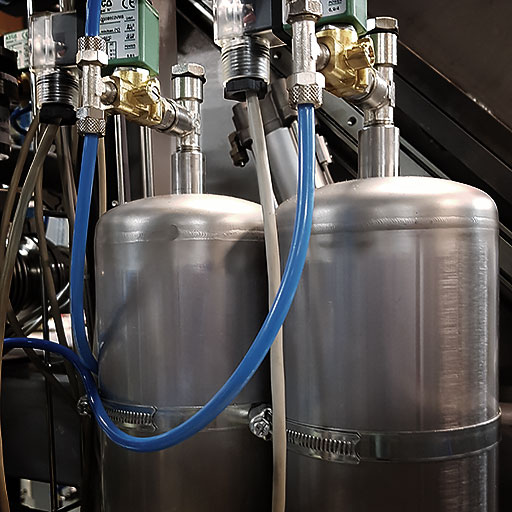 Combined system for evacuation and leak testing of a heat exchanger
Combined system for evacuation and leak testing of a heat exchanger as well as filling it with coolant.
Operator login is required and all production data are stored in the facility database.
The system also incorporates regular tests using a known standard leak device, thus ensuring that the system meet the requirements.
In the mid ninetees, Löwener was consulted in designing a vacuum system used for metal coating of CD's (compact discs) in an all new integrated CD finishing line.
The pump system facilitated a metal sputtering chamber, used to apply the reflective layer onto the CD.
High demands on cycle time and compactness were key parameters and the final production line came to be the most integrated and compact on the world market.


Large system for pressure tests of high voltage components
A large system used to pressure test and fill high voltage components with dielectric insulating gas.
Objects can be placed in either of three different cages, which acts as protection should an object not withstand the test.
After being evacuated of inside air, the objects are pressure tested with Nitrogen to the customer specification.
Sequentially, the Nitrogen are evacuated and the objects are filled with dielectric insulating gas.
Please contact us for more information about Process / Filling systems.