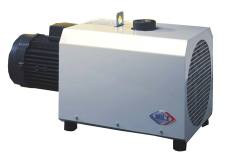 Dry rotary vane vacuum pumps Mil´s. Oil-free. Do you need a dry rotary vane pump? We have many sizes.
To be used for
- Standard industrial use
- Also for laboratories
Rough vacuum pumping, central vacuum systems, vacuum packaging, for holding components to be moved, for holding components in place.
Mil's Arica-series. Dry rotary vane pumps. 4-60 m³/h. 1 Atm- 100 or 150 mbar. Oil free vacuum with carbon vanes.
Arica 10V, 15V and 25V are normally on stock.
---
Vacuum pumps Arica 3VK-60V
---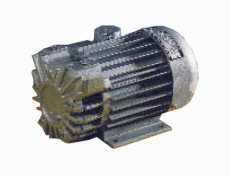 Arica 3VK
Nominal Capacity: 4 m3/h
Pneurop Capacity: 3.3 m3/h
Final vacuum : 100 mbar (abs)
Motor Power: 0.25 kW
Rotation speed (50 Hz): 1400 rpm
Noise level: 58 dB(A)
Weight: 6.5 kg
Vacuum-Flange: 1/8"
Article-Number 1 ph: I14101
Arica 6VK
Nominal Capacity: 7 m3/h
Pneurop Capacity: 6.5 m3/h
Final vacuum : 100 mbar (abs)
Motor Power: 0.30 kW
Rotation speed (50 Hz): 1400 rpm
Noise level: 59 dB(A)
Weight: 11.5 kg
Vacuum-Flange: 3/8"
Article-Number 1 ph: I14102
---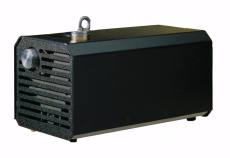 Arica 10V
Nominal Capacity: 11 m3/h
Pneurop Capacity: 9.7 m3/h
Final vacuum : 150 mbar (abs)
Motor Power: 0.37 kW
Rotation speed (50 Hz): 1450 rpm
Noise level: 60 dB(A)
Weight: 20 kg
Vacuum-Flange: 3/4"
Built-in 25µ suction filter
Article-Number 3 ph: I14104
Arica 15V
Nominal Capacity: 17.5 m3/h
Pneurop Capacity: 16 m3/h
Final vacuum : 150 mbar (abs)
Motor Power: 0.55 kW
Rotation speed (50 Hz): 1450 rpm
Noise level: 63 dB(A)
Weight: 29 kg
Vacuum-Flange: 1"
Built-in 25µ suction filter
Article-Number 3 ph: I14106
Arica 25V
Nominal Capacity: 27 m3/h
Pneurop Capacity: 26 m3/h
Final vacuum : 150 mbar (abs)
Motor Power: 0.75 kW
Rotation speed (50 Hz): 1450 rpm
Noise level: 65 dB(A)
Weight: 34 kg
Vacuum-Flange: 1"
Article-Number 3 ph: I14108
Mil's Arica-serie: pumping curves, evacuation times, drawings, PDF-file
---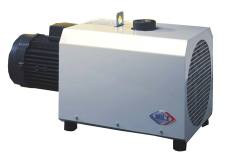 Arica 60V
Nominal Capacity: 55 m3/h
Pneurop Capacity: 53 m3/h
Final vacuum : 100 mbar (abs)
Motor Power: 1.5 kW
Rotation speed (50 Hz): 1450 rpm
Noise level: 66 dB(A)
Weight: 50 kg
Vacuum-Flange: 1 1/4"
Article-Number 3 ph: I14109
Mil's Arica-serie: pumping curves, evacuation times, drawings, PDF-file
---
Mil´s Rotary vane vacuum pumps, consumables
---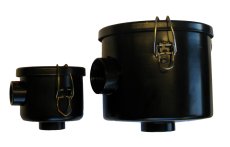 Particle filter

| Article number | Filter | Capacity m3/h | Connection |
| --- | --- | --- | --- |
| F30100 | F.001 | 24 | 3/8" |
| F30101 | F.002 | 42 | 3/4" |
| F30102 | F.002/1 | 42 | 1/2" |
| F30103 | F.003 | 108 | 1 1/4" |